---
just back from the 2nd Italian Congress of Scientific Gemology - CIGES2011 on the theme of:

"THE DIAMOND: MINERAL, MATERIAL AND GEMSTONE"

hosted by the University of Bari and the Puglia Academy of Science
the start wasn't so good as you can see in the picture below……….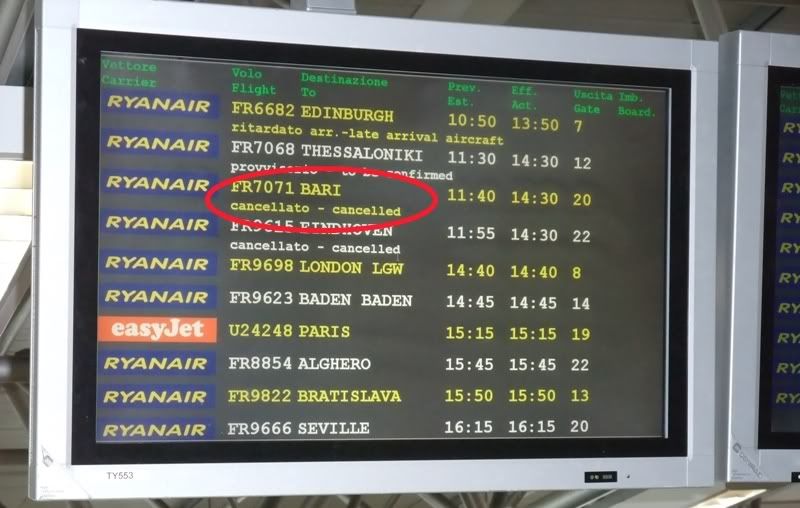 Strike in the airport, flight cancelled, fast run to the railway station………. in the end, 10 hours needed to cover 400km (250 miles) tzk, tzk….
missed the opening ceremony and the registration……….ok, ticket to the bad luck paid: tomorrow will be better……

Day one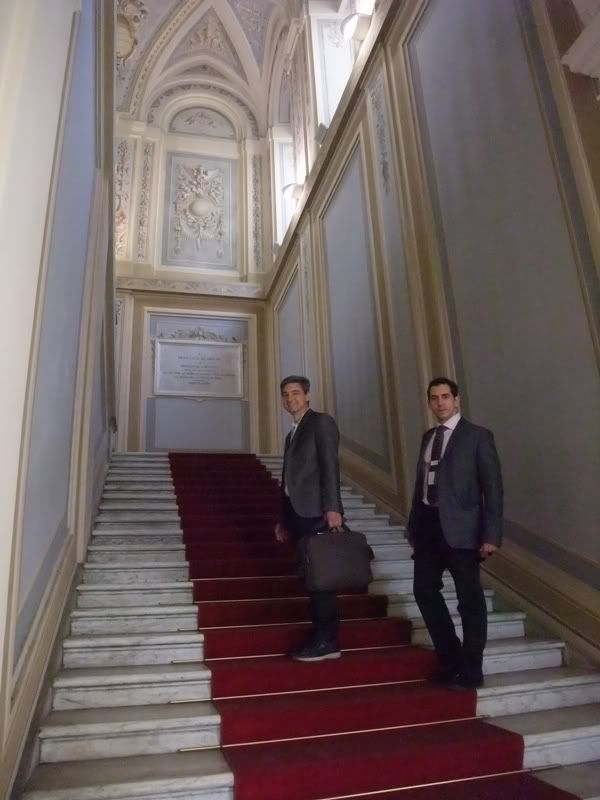 A couple of friends (and GO members
): Francesco, aka Alan Ford and Gennaro aka Gennygio

SALONE DEGLI AFFRESHI
ATHENAEUM BUILDING


FIRST SCIENTIFIC SESSION
Chair: Eugenio SCANDALE (University of Bari)
Gaetano CAVALIERI (President CIBJO) "The Ethical-social importance of
certification and the traceability of diamonds"

Paolo SPINELLI (University of Bari) "The diamond as a particle detector"

Andrea M. ROMANO (Tarì Consortium, Marcianise, CE)
"The diamond market and training gemologists"
SECOND SCIENTIFIC SESSION
Chair: Caterina RINAUDO (University of Alessandria)
Jeff HARRIS (University of Glasgow) "The colour of diamonds"

Loredana PROSPERI (Italian Gemmological Institute, Milan) "Imitations of
diamonds: yesterday, today and…tomorrow?"

Riccardo D'AGOSTINO (University of Bari) "Thin film deposition via plasma
for use in jewelry and gemstones"

Anna BRAJKOVIC (University of Milan Bicocca) "The mineralogical
characterization and spectroscopy of the natural diamonds of Yakutia"

Giovanni BOSSI (Andergassen Foundation, Milan) "Issues in certification"

Michele MACRÌ (Polo Museum, University of Rome Sapienza) "The diamond:
a gemm(non)logical market"

Patrizia CALEFATO (University of Bari) "The jewel - between luxury and
fashion"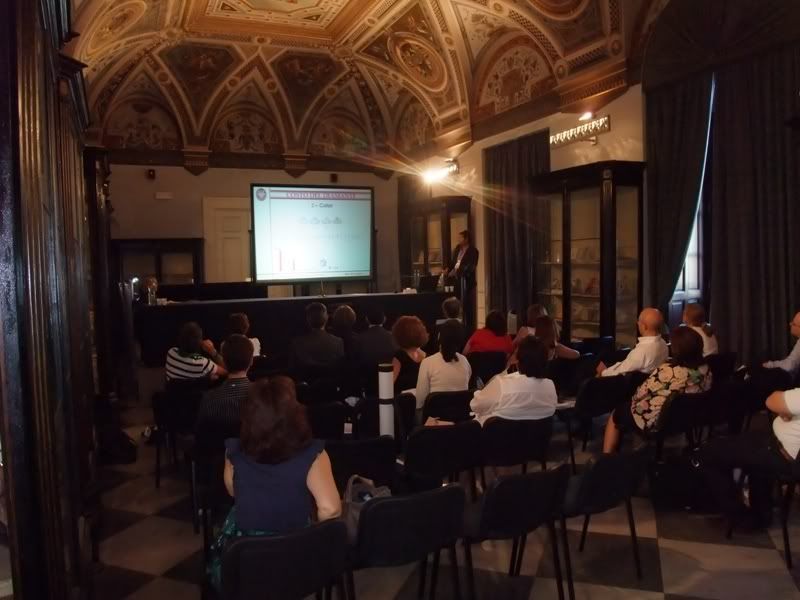 Dr. Macrì taking his lecture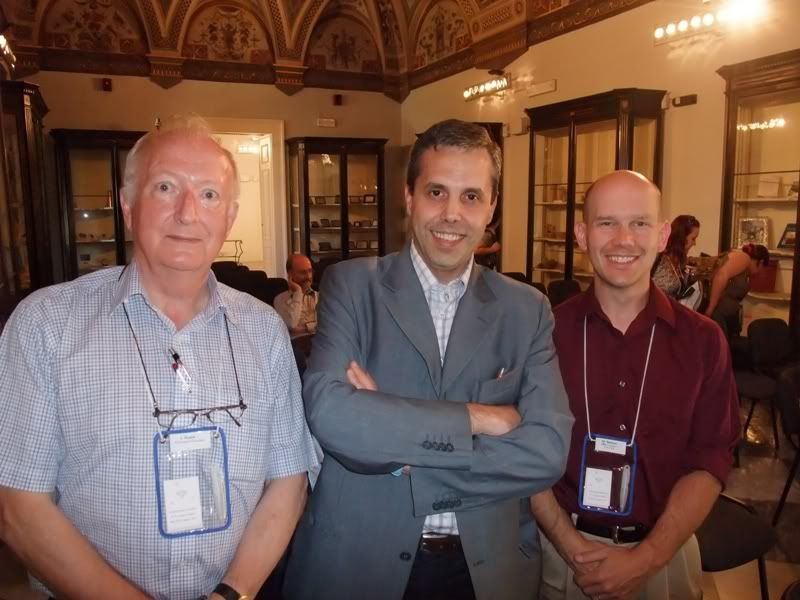 in the middle between Jeff Harris and Christopher Breeding

day two

MAIN HALL

BARI UNIVERSITY CAMPUS – BUILDING OF EARTH SCIENCES

THIRD SCIENTIFIC SESSION
Chair: Luigi NICOLAIS (University of Naples Federico II)

Alix GICQUEL (University of Paris 13) "Plasma enhanced CVD diamond
single crystal growth: a State of the Art"

Fabrizio NESTOLA (University of Padova) "Inclusions in diamonds:
implications for Earth Sciences"

Alberto MALOSSI (Gemmecreate srl, Milan) "Issues in the commerce of
synthetics diamonds"

Vanda ROLANDI (Italian Gemmology Board, Milan) "A new synthetic
diamond: characterization and comparison with previous synthetics".

Adriana MARAS (University of Roma Sapienza) "color change diamonds: the
case of the diamond in the Pope Leo XII collection"

Eugenio SCANDALE (University of Bari) "The impossible perfection of natural
diamonds"

Ilaria ADAMO (State University of Milan) "The HP-HT treatment of diamonds"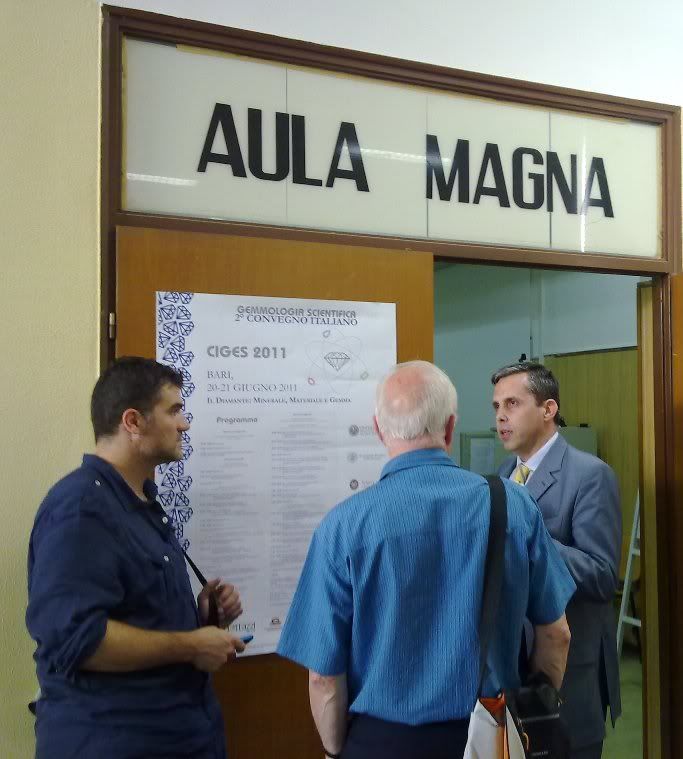 Trying to explain our proposals of law to Jeff Harris during the coffee-break (note my inspired look.....
), the guy on the left is Prof. Fabrizio Nestola who took likely the most interesting lecture, IMHO
. I really hope to have at least some papers from him to share in the near future…. his ongoing work on inclusions in russian mined roughs (samples provided by Jeff Harris) is really brilliant and…..innovative.

FOURTH SCIENTIFIC SESSION
Chair: Alessandro PAVESE (State University of Milan)

Christopher M. BREEDING (Gemmological Institute of America, NY) "The
gemmological importance of the typological classification of diamonds"

Margherita SUPERCHI (CIBJO Gemmological Commission, Milan) "The
CIBJO manual of the gemmological laboratory" (held by Dr. Tempesta due to the absence of Ms. Superchi)

Caterina RINAUDO (University of Piemonte Orientale) "Spectroscopic
analysis of natural and synthetic diamonds"

Grazia CICALA (IMIP-CNR, Bari) "Deposition of synthetic diamonds by
means of CH4-H2 plasmas"

there was then a very interesting presentation of a new LIBS unit designed and realized by A. De Giacomo of Bari university in collaboration with Masterstones, a Roman gemological lab. The unit is composed by a custom arranged spectrometer with an especially narrowed wavelenght range in order to spot beryllium, if i recall correctly the sensibility is around 20-30 ppm. It seems the unit will be soon for sale at an average price of 35k euros. i know US folks are quite used to see these kind of collaborations among uni departments and industry but i assure you in Italy it's indeed really RARE so, kudos to dr. De Giacomo and Masterstones lab
ROUND TABLE, Moderator: Adriana MARAS (Università di Roma Sapienza)
"Proposed Laws for the Regulation of the Gemmological Industry" as
presently being debated before The Chamber of Deputies.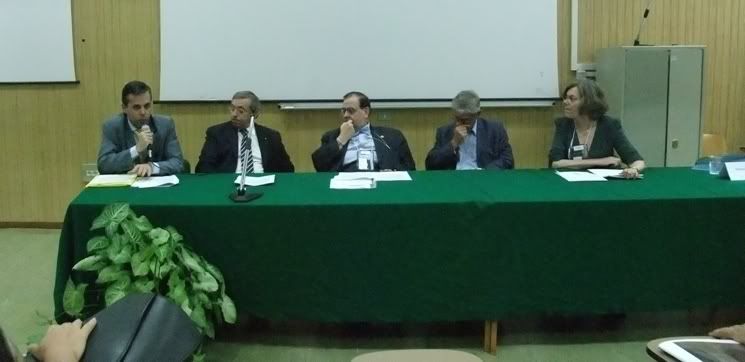 A shot of the round table, from left: me, Vincenzo Giannotti (Tarì vice-president), Dario Bossi Migliavacca (President CISGEM), Raffaele Maino (President FEDERPIETRE) and the moderator Prof. Adriana Maras

Christopher Breeding lecture was interesting indeed, besides the useful infos about diamond-type discrimination (see G&G article in the summer 2009 issue) he discussed about the new challenge caused by the process of natural annealing in the Marange diamonds from Zimbabwe.
Needless to say it was a very interesting event even if all those lectures shrinked in 2 days only caused a brain "indigestion"….
. the organization committee sworn a complete documentation about all the lectures will be available (sooner or later
), I'll keep you informed when it will be released, many of the lectures were so interesting that was a REAL pity to came back home with no more than a bunch of dramatically incomplete scrabbled notes……

A big thank you to everyone was involved and especially to the organization committee!


ciao
alberto

sidenote: the event got coverage by a local TV, unfortunately reserved to folks who understands italian language....