---
Some of my recent adventures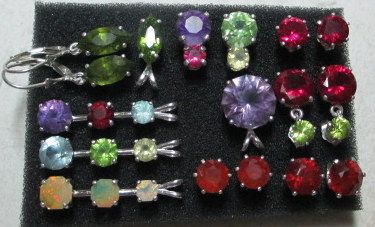 2 prs orange garnet studs, 8 and 7mm,
3 stone opal,3 stone citrine, peridot, and aqua, 3 stone aqua, ruby, amethyst,peridot and lab ruby dangle earrings, the 3 stones are 5,6,7 mm.
12mm flawless amethyst, 2 stone citrine and peridot, 2 stone lab ruby and amethyst,(these are 5 and 8mm).
Peridot suite of 6x12mm dangle leverback earrings and pendant, and a pair of7mm lab ruby studs.
I cut all stones except the lab rubies.
Supposed to be from top left but pic was upside down, oops.
I know I am not in the same league as some of you guys and girls, but give a guy a chance.